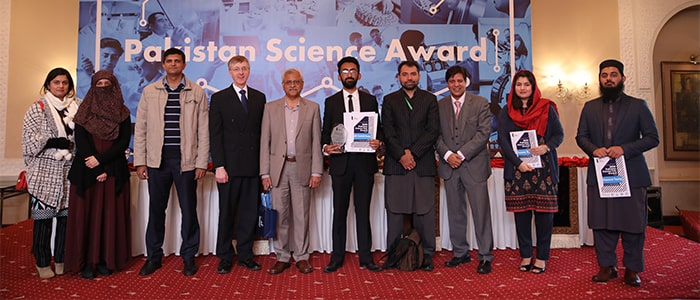 Pakistan Science Fair Award 2020
Pakistan Science Fair Award 2020 was hosted by Ulster University, UK, in Serena Hotel, Islamabad on 28th of January, 2020. The students from FAST-NUCES (Islamabad Campus), NUST, Air, and Behria Universities participated by presenting their ideas on the topic of Data Science for Social Good. Dr.Kifayat Alizai and Dr.Amna Basharat were responsible/in-charge of receiving and screening the students submissions, their mentoring, overall supervision, and event coordination. They received multiple submissions from the campus, out of which 6 were shortlisted. Subsequently, after a brainstorming session, they selected top 3 FYP posters of Ali Zahid Raja, Soma Syed, and Hamza Tariq. These are all students of batch 16 and currently doing their FYPs.

Each university submitted 3 posters, in this way there were 12 submissions from all 4 universities. Each student defended the idea in the poster before the panel (Judges from Ulster, NUST, FAST, Air, and Bahria) 1 day prior to the formal event. Fortunately, our hard-working students Mr. Ali Zahir Raja (batch 2016) secured the 2nd position. The NUCES' students and faculty members were excited to have the honorable Rector of NUCES-FAST, Dr. Ayub Alvi, amongst them who also delivered an enlightening speech related to Data Science and Artificial Intelligence on the invitation of Ulster University, UK. 2nd position holder, Mr.Ali Zahid Raja,won PKR 55,000 Cash prize along with 50% tuition fee waiver (approximately, PKR 1.37 Million), subject to meeting the entry requirements for the selected program in Ulster University.
Back to List