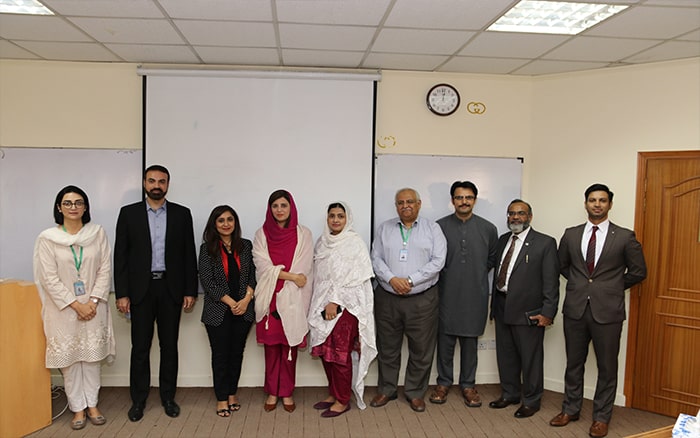 Thursday, Sep 26, 2019
News
Federal Minister of state for Climate Change addresses Global Climate Strike seminar at FAST-NU
Islamabad: Federal minister of state for Climate Change Zartaj Gul addressed a seminar held in connection with Global Climate Strike here at FAST-National University of Computer & Emerging Sciences on Tuesday.
The seminar was arranged by FAST-NU Islamabad campus in collaboration with capital administration under Global Climate Strike. Federal minister of state for Climate Change Zartaj Gul graced the occasion as chief guest while share was accompanied by FAST-NU Assistant Professor Usman Chaudhry, Assistant Commissioner Islamabad Ms. Mehreen Baloch, renowned actor & director Usman Mukhtar and Maryam Shabbir, an environmentalist from SDPI. A large number of faculty, staff and students attended the seminar. The federal minister also planted a tree in the lawn of FAST-NU Islamabad Campus while campus director Dr. Waseem Ikram was also present on this occasion.
While addressing the seminar, minister of state said that her ministry is going to request the PM to declare Climate Emergency across the country. She urged the youth to come up united against the maniac of pollution to protect the environment for healthy living. Global Strike was launched to compel the developed countries and large scale corporations to control the emission of greenhouse gases, she added. While talking about government's commitment, minster said that our billion tree tsunami project was heavily criticized but now it is being considered as success stories of the century. She said that youths' attitude matters for any change in perception. While quoting different international news organizations, Gul said that by different surveys it was reported that 60% of Pakistanis know nothing about climate change, however, the way our youth has proven all such claims wrong by responding to this call in full letter & spirit.
FAST-NU Assistant Professor Usman Chaudhry opened the seminar by sharing the concept of Global Climate Strike.We need to understand there is no Planet B. If we want to live here, let us show responsibility and not take things for granted, he said while adding that we need to take care of what we have by refusing plastic bags, greenhouse gases emission, and all this can be started by taking small steps.
While addressing Assistant Commissioner Islamabad Mehreen Baloch said that Pakistan is the 8th most vulnerable country to climate change. Describing some valuable measures taken by Capital administration, she said that heavy fines are being imposed on littering while the district administration authority has banned the brick kilns to operate inside the territory of federal capital. She said that administration has succeeded to achieve a sufficient decrease in the usage of plastic bags and the ban is being implemented vey strictly.
Renowned actor & director Usman Mukhtar and Maryam Shabbir also addressed the seminar and urged the youth to play their role in climate strike. FAST-NU Campus Director Dr. Waseem Ikram expressed his gratitude to the guests for their valued contributions and said that FAST-NU will always be playing its role in highlighting civic issues.
Back to List