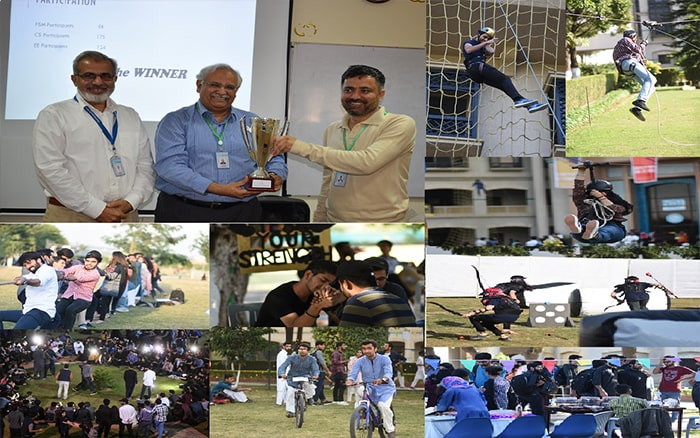 Monday, Nov 25, 2019
News
Islamabad, Oct 25, 2019: To provide the students a platform to develop their leadership and team skills National University of Computer & Emerging Science held annual adventure gala which was participated by a huge number of students. A day-long adventure gala was organized by FAST Adventure Society here at NU-FAST Islamabad Campus.
The Adventure Gala hosted many newly revamped mind games, creativity, and innovation and adventure sports. The opening ceremony was chaired by Campus Director Dr.Waseem Ikram while he was accompanied by senior faculty members. On this occasion a large number of students were also present. More than 400 participants took part in various games including Rescue your buddy, Slow Cycling, Minute to win it, Paintball Fight, Camping Night, Trampoline, Zip Lining, Archery and Tug of War under social games and adventure sports categories.
Inter departmental competition trophy was won by Electrical Engineering department. The closing ceremony was chaired by Campus Director Dr. Waseem Ikram while HOD EE Dr. Mukhtar Ullah, HOD Computer Sciences Dr. Kashif Muneer and Mentor of FAST Adventure Society Dr. Rashid Ramzan were also present on this occasion. Chief guest Dr. Waseem Ikram handed over the winning trophy to computer science department while he distributed the certificates among the winning contestants as well.
While addressing on this occasion, chief guest Campus Director Dr. Waseem Ikram congratulated the FAST Adventure Society for well-organized adventure gala. He urged the students to take part in games and adventure activities to keep high standards of fitness for a healthy lifestyle.
Back to List